JUNE WACHTLER
Harpist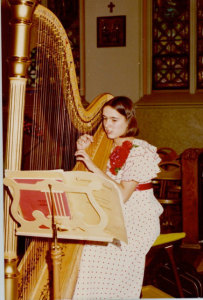 Harpist June Wachtler was born in Essex Fell, New Jersey in 1959 as a third generation Hungarian. She has been playing the harp since she was 8. The Hungarian Community learned about her talent when she played at St. Stephen's R. C Magyar Church, while Cardinal József Mindszenty was visiting Passaic in 1974.
Ms. Wachtler received Bachelors and Masters degrees in music from Yale University where she was a student of Gloria Agostini. She was the first recipient of the Sudler award, Yale's major prize for exceptional achievement in the creative and performing arts. Under the auspices of a Flulbright Grant, Ms Wachtler completed postgraduate studies with Susanna Mildonian at the Royal Music Conservatory of Brussels, Belgium, where she was awarded a Premiere Prix.
Ms Wachtler holds a Masters degree in Business Administration from columbia University and is currently an international product manager for cardiovascular products with Merck and Co., Inc.
Ms Wachtler has performed extensively as a soloist throughout the United States and Europe, including appearances at Avery Fisher Hall, Carnegie Recital Hall and the Garden State Arts Center. She has appeared on numerous television and radio broadcasts and at music festivals in the United States and France.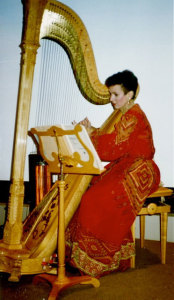 Ms Wachtler has received many awards throughout her career including two first prizes at American Hapr Society National Competitions, first prize at the Livingston Symphony, Trenton Symphony and Yale Philharmonia Concerto Competitions, and first prize at the Garden State Arts Center Talent Expo Competition. While still in college she was a semi-finalist at the  International Harp Competition in Israel. She has undertaken a Solo Concert tour of the USA in 1984.
In November 1992, Ms Wachtler gave a concert at the American Hungarian Museum under extreme conditions – there was no heat in the building, but she played anyway. The heater beside her didn't help much either. The audience appreciated her efforts, sacrifice and smiling face.  Her program included works from Händel, Bach, Grandjany, Salzedo, Bartók Faure and A. L. Webber.
American Hungarian Museum, No. 15, 1992