HUNGARIAN LACE
Emese Kerkay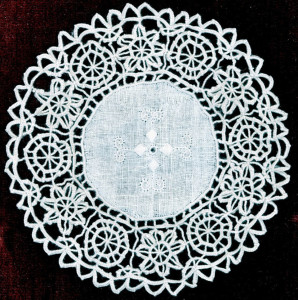 LACE! To the woman of today it is a fine, flower-like material, in which there are parts left out, and in which holes and gaps are systematically arranged. Strictly lace is made after a previously decided method and with tools, forming its own material from a separate thread.
But if we begin to consider Hungarian lace, and think of the tremendous amount that has been made for many hundreds of years, we have to enlarge our idea of what lace really is." (Undi:73) Lace can be light as spider-webs, and heavy as passamenterie. Hungarian lace is extremely varied where material and way of making is concerned. Some of our ancient embroideries are as fine as lace and have merged into one with lace-making. Therefore it is difficult to classify our laces. There are endless ways of Hungarian lace-making and they are of high standard, be it real lace or lace-like embroidery.
Knotted lace is considered to be the oldest type of lace. Knotted lace and knotted fringe was used in ancient cultures and the Bible mentions it too. It is as old as weaving itself, because the edges of the material, cut off the loom, had to be secured. When the hanging threads are knotted in a certain way, it becomes a decoration, and this is already a knotted lace. The knotted fringe decoration is of high standard and widely used in Hungary.
Originally there are two types of lace: needle lace and bobbin or pillow lace. They have no fabric background. Needle lace is the older of the two. Braided, crocheted and knitted lace are variants of these. Lace can be made of linen and tulle by ways of thinning, than embroidering the material, which is considered a lace-like embroidery. No doubt, lace made of some kind of fabric is the oldest.
Drawn-threadwork. A few threads, running long way, are cut and pulled out. The cut out part is strengthened with different kinds of looped (blanket) stitches. The thinned out part also can be threaded with a different embroidery yarn in a certain pattern. The oldest existing piece of this type in Hungary, is the coronation shirt of King Louis II. (1516-1526).
Subrika is also a thread-drawn work, but after the material is thinned lengthwise, the whole width is woven in with a different kind of thread. The patterns are geometrical and remind us of old weavings.
Sewn netting or twist netting. The long and cross thread is cut and drawn out. The cut parts of the trellis have to be secured and the loose threads are strengthened mostly with looped stitches. The netting is decorated with beautiful patterns of flowers, birds, animals and figures on horseback.
Open cut work, is one type of sewn netting. The material is cut out in a certain geometrical pattern and secured with various embroidery stitches. The open cut work itself is the design of the material, no other motifs are sewn into the net. However it can be combined with counted satin stitch patterns.
Eyelet embroidery is also a type of open cut work. In this case round and tear-drop shaped holes are cut into the fabric and secured with button-hole stitches. The rows of holes form the pattern. Sometimes the openings are enlarged and filled in with spider webs. The spider webs are a type of needle lace, done with circular needle weaving. The most famous cobweb / spider web lace is made in Sopron (Hövej) and Pozsony counties, West Hungary.
In case of Madeira the cut out petals of leaves and flowers are woven in with needle lace stitches in a simple manner.
Richelieu (riseliö) is a kind of open cut work embroidery. It is used in Kalocsa. After a flowery design is embroidered, the surrounding material is cut away and the openings are secured together with 'legs', a type of needle lace, and also with spider webs.
Needle lace first appeared in the Middle Ages. The oldest existing piece in Hungary was found in the casket of the wife of King Béla III. (1172-1197). Needle lace is independent of any fabric embroidery or netting. It is sewn with a needle and consists of a variety of buttonhole stitches. The most famous Hungarian needle lace made today, was developed in Kiskunhalas around the turn of the century and is called Lace of Halas. With exception of the Lace of Halas, in contrast to the rest of the world, lace is not a commercial item in Hungary.
Filet Lace. Embroidery on net is popular and well-known all over the world. In Hungary it was known already at the time of King Matthias (1458-1490). The base is a knotted net, made exactly the same way as the fishing-nets. The fine net is embroidered with a variety of beautiful designs with a weaving stitch.
Tulle appliqué is also classified as lace. A very fine batiste material is cut out and sewn with tiny stitches onto the tulle. Beautiful Tulle lace embroidery with various stitches is made in Northern Hungary.
Bobbin lace or Pillow lace is found in Hungary since the 16th century. It decorated the noble and peasant houses and costumes alike, consequently it became a prospering industry. The making of bobbin or pillow lace is a kind of weaving. Small bones, wooden spindles or weights are tied to the end of the thread and cast here and there, spinning or weaving a pattern in this form.
The forerunner of bobbin lace was passamenterie, which was done with the same method. In Hungary passamenterie and button-maker guilds already existed at the time of King Sigismund (1387-1437). But this trade must have been even older, as the button was introduced in Europe by the Hungarians. Pillow made buttons, passamenterie and braids were crafted in Hungary since the 16th century. It was a flourishing trade as Hungarian costumes were heavily decorated with passamenterie and braids for centuries.
The Crochet technique is very old. The button- and passamenterie makers crocheted the braids and buttons, which were used for centuries on gala dresses. The officers in Rákóczi's army (1703-1711) wore crochet sword belts. Crochet Lace, however, is of quite recent origin, but nevertheless very popular everywhere.
Mass production of lace is mechanized all over the world. It is a prosperous industry in Hungary as well.
Hand made lace, a highly valued art form, is still flourishing and in great demand everywhere.
American Hungarian Museum, No. 43, 1996